James Garnett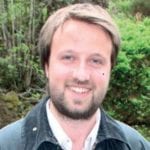 Company: Boehringer Ingelheim
Job title: Head of Respiratory Epithelia Research Lab
Bio:
James is currently Head of Respiratory Epithelia Research Laboratory at Boehringer Ingelheim in Germany. His lab broadly investigates the role of the airway and alveolar epithelium in IPF, PF-ILDs, COPD and Asthma, with a particular focus on lung epithelial barrier function, epithelial stem cells/progentiors in lung repair, epithelial metabolism and epithelia-fibroblast crosstalk.
James is also an Associate Lecturer in the Institute of Cellular Medicine at Newcastle University, and hold a Medical Research Foundation Respiratory Disease Research Fellowship Award. His lab at Newcastle studies the role of glucose in the respiratory tract and in particular its role in bacterial infections in Cystic Fibrosis and CF related diabetes.
James is currently the lead convenor of the Epithelia & Membrane Transport theme of the Physiological Society (UK), the industry member of the Cell and Molecular Physiology Section steering committee and the Epithelia Transport Group committee of the American Physiological Society.
Seminars:
Recapitulating Alveolar Epithelial Dysfunction in iPSC-Derived Air- Liquid Interface Models (Remote Presentation) 9:10 am
day: Day Two