Partnership Opportunities
The digital 4th IPF Summit is your fastest route to organizations experienced in and just starting to prioritize IPF and antifibrotic drug development. Your organization, your message, and your reputation all showcased in front of the leading minds of IPF drug development!
Greater brand awareness; nurtured lead generation; networking of surgical precision.
Gathering stakeholders and key opinion leaders virtually, this is your opportunity to position yourself at the front of the minds of 150+ drug developers from 100+ organizations in the current climate and elevate your company's standing and influence in this field.
We understand each business is different and connecting virtually is somewhat new, so we will work with you to build a bespoke package to fulfill your 2020/2021 business objectives.
Secure a virtual exhibition booth to present and position your capabilities to developers who are actively seeking new solutions to optimize drug development inefficiencies
Network one-to-one with stakeholders during our coordinated networking sessions to first-hand understand their requirements and present your solution
Deliver a presentation online and still be able to influence the thinking of translational and pre-clinical scientists working to identify new promising compounds
Contact us today to learn how we can help you achieve your business goals faster and more effectively online at  sponsor@hansonwade.com
2020 Partner Testimonials
"Hanson Wade did a phenomenal job! Definitely the most productive conference so far this year regarding the number of leads and quality of networking opportunities by a lot."

Vitalograph, IPF Summit sponsor
"You all did a great job in organizing the IPF Summit. In my book, it is a great success."
Aragen Bioscience, IPF Summit sponsor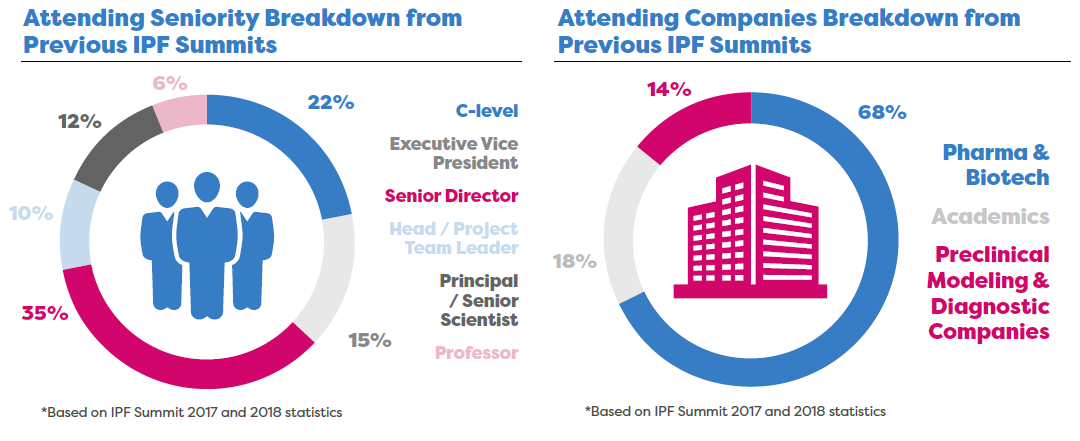 Interested in Partnering?